Black Country Housing Group (BCHG) is partnering with Dudley Council's Public Health Team to provide free toothbrush packs to children and adult residents in need from 16 October 2023, in a bid to improve the oral health of families. 
Families in need will receive free toothbrush packs*, including a toothbrush, fluoride toothpaste and oral health information leaflet, for themselves and their family, but be quick as stocks are limited.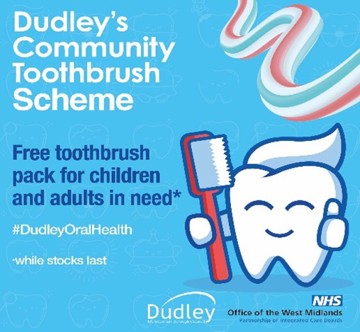 Tooth decay is the most common oral disease affecting children and young people in England, yet it is largely preventable. Brushing your teeth twice a day with fluoride toothpaste is so important to protect both children and adult's teeth. 
In difficult financial times, taking care of your teeth may slip down the list of priorities when compared with food and warmth through this scheme we can provide toothbrush packs locally and support families in taking care of their teeth from as soon as a child has their first tooth.  
We will be distributing toothbrush packs to our Dudley customers in need, to support them with their oral health. To get your toothbrush pack please contact your Customer Relations Manager.  
For more information on the scheme please visit the page here.
Participants will also be asked to complete an online feedback form and in doing so will also be entered into a free prize draw with a chance to win a £50 shopping voucher. 

*Terms and Conditions apply, find out more information here.